Welcome to Expression Verticale !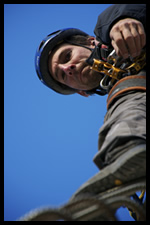 Let me introduce myself : Sylvain Carletti, climbing and canyoning instructor since 2010, living near Nice. A chemistry graduate and climber of vocation, I finally decided to transmit my passion of the vertical universe through the various activities I propose. I've practiced climbing since childhood but it was in 2008 in Canada, in the famous climbing gym of Montreal "Horizon Roc" that I had for the first time the opportunity to teach for the first time. The contact with children and beginners made me fully understand all the educational interest of this discipline.
At all ages, and all levels, the vertical world allows everyone to achieve their own objectives. In addition to our physical skills, which finally comes second, self-transcendence, management of emotions, body knowledge and self-confidence are some capacities climbing or canyoning can develop. Using games for the young ones, focusing on performance and progress for the most athletic ones and discovery for novices, each of the proposed activities will transport you into a natural atypical environment, often off the beaten tracks, but protected and reassuring because of the presence of an experienced guide, able to guide you and advise you : a professional.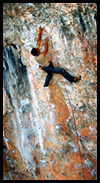 Thanks to its climate and its geology, our region is particularly favorable to the discovery of climbing and canyoning. Nevertheless, for most of us, the vertical universe amalgamates in an attractive mixture of apprehension and adventure that is not always easy to deal with without some prior knowledge. One of my main goals is to transmit such knowledge, so that everyone, over time and in their own pace, can achieve autonomy in the activities that I offer. Talking about the environment, the equipment, and the techniques will always be an integrated part of each activity.
Giving as many as possible the opportunity to practice leisure activities in the wilderness, aiming mental and physical well-being, is the raison d'être of Expression vertical and the motivation of my professional commitment.
For a more accurate vision of my professional and personal activities, take a look at my blog (in French).